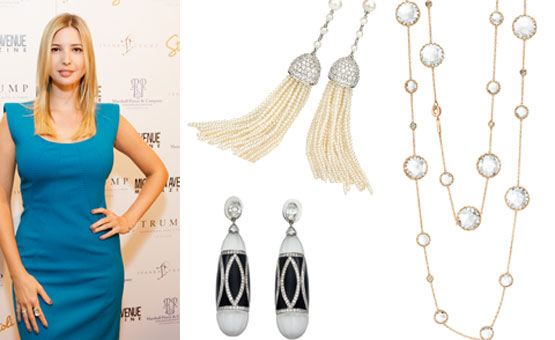 Ivanka Trump Launches Her New Fine Jewelry Collection
On October 11th, the Trump International Hotel and Tower attracted over 120 tastemakers to celebrate the launch of Ivanka Trump's fine jewelry collection.
Ivanka, who wore a fitted teal dress and her own dazzling jewels, was estatic to launch in the Windy City. "We waited and were very disciplined for many many years to introduce the Trump brand to real estate in Chicago," she said. "We took that same approach as we were looking for the right partner here in Chicago to launch my jewelry line and that is very obviously Marshall Pierce." A significant aspect of Trump's jewelry business in Chicago is that it is one of only thirteen store locations that she has chosen around the world to market her product.
Her designs were inspired by classic looks from the 1920s to the 1960s with a little extra edge and modern opulence. From the latest collection, we love the large crystal cabochon pagoda cocktail ring (as seen on Ivanka at the fête), the deamond briolette tassel earrings and the frosted rock crystal earrings accented with black enamel and diamonds. And just as Ivanka is known for upholding womanly class, her jewelry designs are no different. Made with the best craftsmanship, all nine of her collections show superior quality and one-of-a-kind designs. It's no surprise that Ivanka has made her mark on luxury.
You can find Ivanka's latest collection at Marshall Pierce, located at 29 East Madison Street, sixth floor and 335 North Michigan Avenue. Please visit www.marshallpierce.com for more information or call 312.372.2415 or 312.782.4403. - Leigh Loosbrock
---
blog comments powered by
---