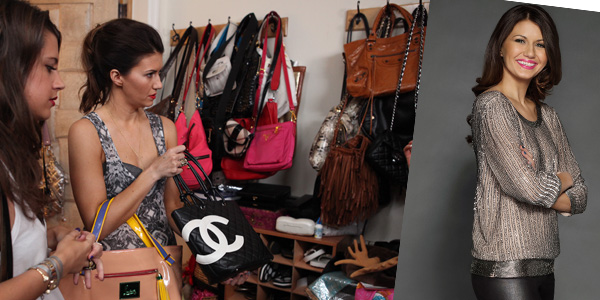 Meet Corri McFadden – Owner of eDrop-Off and Star of VH1's "House of Consignment"
"House of Consignment" will follow entrepreneur Corri McFadden and her team while they take in high-end, luxury brand items from their list of swanky clientele.
We caught up with Chicago's most fashionable entrepreneur, Corri McFadden, to talk about her new reality show that will launch on VH1 on March 21st.

FACTIO MAGAZINE: Can you explain a little further about your company and how it started?
CORRI MCFADDEN: We specialize in the online consignment of unwanted designer clothing, handbags, shoes, and accessories. We do free Nationwide Pickup via UPS, offer free local pickups and can send a consultant to help with a closet cleanout. The concept of an eBay store was presented to me and I loved the thought of working for myself. Once I opened the store, I realized how to focus my passion for design and fashion and re-branded myself to be a premier reseller of designer luxury items. Almost eight years later, over 200,000 luxury items have been sold and I consider myself a pioneer in the market.

FM: What convinced you to star in a TV show about it?
CM: The opportunity came to me and I saw it as a chance to give my business national exposure. This is a service that a lot of people could use and simply don't know about. It's more about allowing the viewer to step into a day at eDrop-Off and my life.

FM: Do you think people have misconceptions about the Midwest having no style?
CM: Absolutely, it's all in the eyes of the beholder and there's good and bad fashion in every part of the country. Chicago has a great fashion style with its diversity and unique cultures. When people think Midwest, their perception is not always accurate. Chicago has a taste for all styles and makes for a great and fun shopping experience.
FM: What are some of your favorite pieces in your closet?
CM: I love my shoe collection, vintage Chanel jewelry and love my new mini Celine bag. However, this can change any day.

FM: What are some of your tips for women to break that emotional connection to clothes and accessories?
CM: Ask yourself, when was the last time you wore or used the piece? If it's been over a year, try it on and ask yourself when's the next time you are going to wear it? If you know it's uncomfortable, such as a pair of shoes or a piece that no longer fits, it's easier to make the emotional separation rather than to take up space in your closet. If they don't fit right, chances are you will skip over them and go with what makes you feel good.

FM: What should every woman have in her closet?
CM: A closet should represent who you are today, not one that looks like who you were three years ago. It's important that pieces fit properly and represent you and not the mannequin in a store.
FM: What is your favorite part about the business of fashion?
CM: The freedom to express who you are and the constant change. It's a balance between creativity and business.

FM: What do you think are the biggest differences in fashion trends from the east to west coast to the Midwest?
CM: Weather.

FM: How was it having to do your tasks in front of a camera? Was there any pressure for perfection?
CM: I went about my day pretending they weren't there.

FM: Overall, did you learn anything from the experience of starring on a reality TV show?
CM: I learned how much I'm able to handle. I've never been on anyone's agenda since starting the business. This showed me how far I can stretch myself and manage to a production crew as well as my business needs. It's hard work!

FM: Any favorite moments from the show?
CM: It was amazing to have a private dress fitting with Christian Siriano during NY Fashion. Stay tuned to see more...

FM: What are people surprised to know about you?
CM: My full Midwest upbringing, I have a ridiculous sweet tooth and I used to love long-boarding until I shattered my ankle and it took me out of heels for over a year.

Tune in to view the personal stories behind the clothes at eDrop-Off. Go to www.houseofconsignment.vh1.com  to learn more or on VH1's Facebook and Twitter @VH1 and #HOC. "House of Consignment" premieres with back-to-back episodes Wednesday, March 21 at 10PM/9c and 10:30 PM/9:30c.

-Nina Yang

*Photos Left to Right: Photo Credit: Brian To for VH1 -Closet Cleanout Jena Gambaccini, Corri McFadden, Corri McFadden for VH1. "House of Consignment" premieres Weds. March 21 at 10/9c and 10:30c/9:30c on VH1.
---
blog comments powered by
---