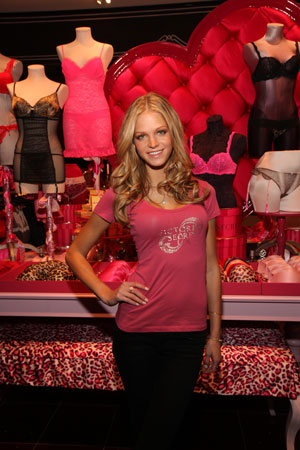 Victoria's Secret Supermodel Celebrates V-Day on Michigan Avenue
As Victoria's Secret continues the launch of their brand new Michigan Avenue location, they hosted a special Valentine's Day event February 11th, featuring Victoria's Secret Supermodel Erin Heatherton. Guests lined up all around the store to meet and take pictures with the blonde bombshell, as well as check out the latest from Victoria's Secret for the big day of love. 
Erin Heatherton, a Chicago girl from Skokie, has made strides in the fashion world and expressed how excited she was that Chicago was able to create such a beautiful Michigan Avenue store and offer such a large selection of VS products.  Since the event was in honor of V-Day, we asked Erin what are some key pieces from Victoria's Secret to snag to make your night extra special.  She mentioned the Corset Collection is a great addition and does wonders for women wanting that desirable hourglass shape. The piece she stands by most, though, is the Victoria's Secret Miracle Bra (giving women that extra lift they need to entice any man).  To check out these must-haves, as well as other tantalizing lingerie from Victoria's Secret visit the new store located at 734 N. Michigan Avenue. Click here to check out Erin Heatherton and Candice Swanepoel on video thanks to VS and Bing. 
We caught up with Erin to talk V-day, her go-to beauty secrets and her Chicago hang outs!
FACTIO MAGAZINE: What do you love about Valentine's Day?
ERIN HEATHERTON: I love all the indulgences! I always treat myself to some beautiful lingerie, even if it's just for myself, a spa treatment, and of course chocolate and sappy movies!

FM: What are your top pick's from Victoria's Secret? What would you love to receive?
EH: I love the Corset Collection. It's perfect for Valentine's Day because it's so sexy and really meant to be shown off. The corset bra makes me feel so glamorous.

FM: What are some of your go-to beauty secrets?
EH: My beauty secrets are really just eating healthy and drinking lots of water. The better you treat your body, the healthier you'll look.

FM: Where do you usually hang out in Chicago?
EH: I usually hang out around the beach when I can! The architecture down Lake Shore Drive and Sheridan Road always mesmerizes me. I love driving around and listening to music surrounded by all the old gorgeous homes along the beach.

FM: What is the biggest misconception about being a model and why?
EH: I think a lot of people assume being a model says more about your personality and interests than it actually does. Being a model has helped me mature into who I am today because it has allowed me to travel and meet really interesting people, but it doesn't say too much else about my character. Modeling is my job, but there's a lot more to discover about me!
- Lubna Hassan
---
blog comments powered by
---
---
News from around the Web
posted 2012-09-29
posted 2012-07-23
posted 2012-07-20
posted 2012-05-25
posted 2012-05-17
posted 2012-04-13
posted 2012-04-13
Recent Articles