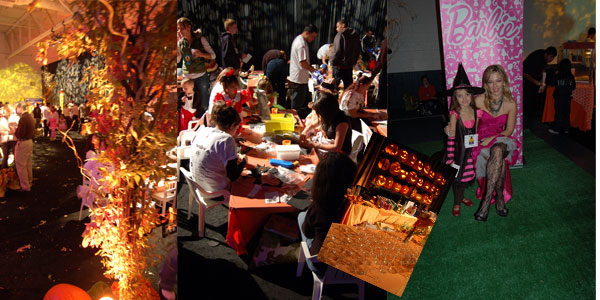 Dream Halloween
On October 18, the Windy City Fieldhouse was transformed into a pumpkin-themed wonderland for the ninth annual Dream Halloween. This wonderful, yearly event benefits the Children Affected by AIDS Foundation (CAAF).

Founded in 1993 by Joe Cristina (a Mattel, Inc. executive), the organization has raised over $23 million for children living with or affected by HIV and AIDS.
Dream Halloween called in some of Cartoonland's heavy-hitters: Little Snow Whites, tiny mermaids and mini Supermen were seen mingling with Underdog, Barbie, witches and wizards. Fun activities included a toy wonderland, where tots could cram gifts into oversized bags. The Children Affected by AIDS Foundation is the only organization solely devoted to providing social, educational, recreational and other critical support programs to vulnerable children impacted by HIV/AIDS in the U.S. and other countries. CAAF works with kids and their families to provide environments and fun things to do to lessen the stigmaand burden of HIV or AIDS."  

CAAF raises money from ticket sales and auction items that included, trips to Shanghai and more.

Dream Halloween events not only happen in the windy city, they also take place in New York and LA. For more information, please visit www.caaf4kids.org.
---
blog comments powered by
---
---
News from around the Web
posted 2012-09-29
posted 2012-07-23
posted 2012-07-20
posted 2012-05-25
posted 2012-05-17
posted 2012-04-13
posted 2012-04-13
Recent Articles