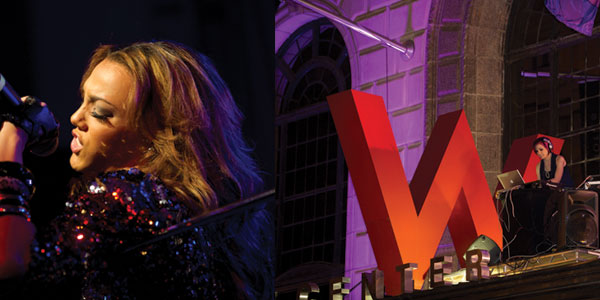 The W Hotel Chicago Celebrates the Opening of IPO
On Wednesday, October 13th, the W Chicago City Center brought together Chicago's finest to celebrate the opening of their newest restaurant, IPO. Guests waiting outside the event were even entertained by a DJ mixing beats on the roof balcony and models posing inside the IPO logo-ed window in white bikinis and sun hats.
The restaurant itself has a very posh ambiance with swanky appeal paying homage to its location in the financial district. Gold and purple snakeskin couches scatter around the bar area with metallic pillows, teardrop lights above the tables, and mirrors filling the walls. At the event, food stations were set up around this area with delicious bites from their new menu, one of the most popular items of the night being a piece of watermelon dipped in sweet and sour sauce accented with crab meat and sprinkled with bits of granola. After the cocktail hour, guests headed upstairs for a performance by new pop princess CeCe Segarra. The stairway had models welcoming guests in gorgeous purple gowns that turned into the curtains framing the doorways.
Segarra looked gorgeous in a sequin mini skirt and sky-high stilettos and as the singer is predicted to be this year's number one breakthrough artist, it's no surprise that her performance was a success with upbeat tunes spilling into the audience. The event was definitely a unique experience. -Leigh Loosbrock
---
blog comments powered by
---
---
News from around the Web
posted 2012-09-29
posted 2012-07-23
posted 2012-07-20
posted 2012-05-25
posted 2012-05-17
posted 2012-04-13
posted 2012-04-13
Recent Articles