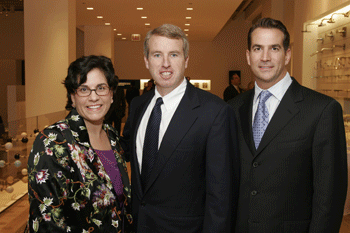 The Bold Look of...Kohler
The kitchen is considered the heart of the home and the bathroom, its sanctuary. The Kohler Company specializes in these essential rooms, but also offers the best in furniture, cabinetry, tile, accessories, generators, and engines.

Its maiden store opened on November 17th and is the first global store in the world, located right here in the wonderful city of Chicago in the Merchandise Mart's LuxeHome. To celebrate, the Kohler family, including (Herbert V. Kohler, Rachel Kohler and David Kohler), entertained over 500 guests on Wednesday, November 16th, which benefited the Architecture and Design Society, the Society for Contemporary Art, and The School of the Art Institute of Chicago. Chicago stylemakers sauntered down a grand 350-foot corridor lined in soft drapes as jazz music drew them toward the pristine Kohler Store. Waiters clad in black held silver trays with glasses of specialty drinks created to match exclusive Kohler Vapour colors. The drinks included crushed blueberry mojitos, peach champagne with rose petals, and pink grapefruit juice with gin and candied kumquats. Finesse Cuisine provided tantalizing appetizers including, tomato bisque shooters with grilled cheese bites, grilled baby lamb chops, and sweet potato bellini with caviar and crème fraiche were served by Finesse cuisine. VIPs at the event including Merchandise Mart President Chris Kennedy, Judy Niedermaier, Maya Polsky, Lester Coney and Brenda Sextonmarveled at the magnificent displays ranging from hammered copper tubs to sea salt sinks.
With 300 products on display, 30 with running water, covering the 7,000 square feet of this home-owners playground, its debut store in which you can touch, feel, and experiment, is not to be missed. The elite brands featured are: The Bold Look of Kohler, Kallista, Robern, and Ann Sacks. To add icing on the cake, Ann Sacks as a subsidiary brand of the Kohler Company and has an additional showroom spanning over 4,000 square feet worth of products connected to the store.

The service provided is impeccable. The highly skilled staff is able to assist you in anything from repairing a faulty faucet to reinventing the entire atmosphere of your kitchen. Product literature, bath and kitchen drawings, personal consultations, material specifications, order management, delivery, and post-sales support are accessible through standard, in-store, and in-house options.
The most impressive feature of the novice store is the Kohler Designer series. The mission of these nationally renowned designers, Laura Bohn, Ray Booth, Clodagh, Christopher Coleman, Brian Covington, and Benjamin Noriega-Ortiz, is to inspire you to create your ideal bathroom. Comprehensive portfolios containing watercolor images of specific Kohler Suite environments, material samples, floor plans and other visual aids are available in store. After being creatively stimulated, you are then able to work directly with an in-home project consultant in order to transform your fantasy bathroom into your reality bathroom.

Not to be outshined by the services rendered, the products are equally exquisite. Kohler products are new age design meets modern sophistication. The WaterTile Shower Sprays are revolutionary designed for the optimal showering experience; they are actually tile-shaped. You can choose from a 54-nozzle spray for soothing water coverage versus a 22-nozzle spray with a stimulating spray pattern, both consist of a 5-by-5-inch escutcheon and a 3-by-3-inch MasterClean spray-face to expedite cleaning.
The futuristic electric toilet is also notable. The Kohler Purist Hatbox toilet is almost mistakable for a wastebasket with its svelte and tankless design. This ultra-quiet and ultra-chic toilet is 17 inches, the height of an average household chair for comfort and accessibility all statures and is available in six colors; White, Biscuit, Ice Grey, Almond, Sandbar, and Thunder Grey.
Not only are the products and services innovative but also the colors. Kohler Vapour colors coupled with its cast iron products bring life and light to any environment. Light blue, green, pink, orange and indigo are the headlining colors and Black & Tan is available for the kitchen.

Kohler was founded in 1873 by 29-year-old Austrian immigrant John Michael Kohler; Kohler has established a legacy of the finest products and services. Herbert V. Kohler, Jr., is the current Chairman of the Board and President of Kohler Company.
The KOHLER Store 
100 The Merchandise Mart
Chicago, IL 60654
Phone: 312.755.2510
Fax: 312.755.2511
Website: www.TheKohlerStore.com
by Candy Washington
---
blog comments powered by
---
---
News from around the Web
posted 2012-09-29
posted 2012-07-23
posted 2012-07-20
posted 2012-05-25
posted 2012-05-17
posted 2012-04-13
posted 2012-04-13
Recent Articles