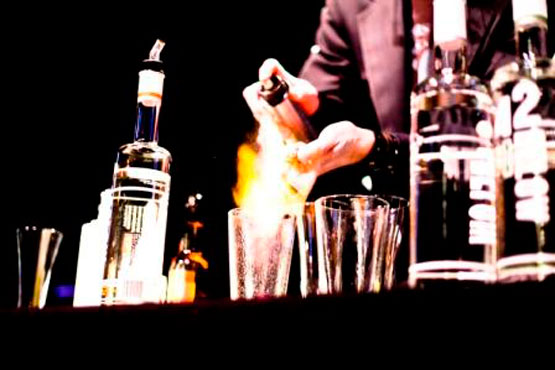 42Below Cocktail World Cup Chicago
The 42Below Cocktail World Cup Chicago finalists were announced this past Tuesday, February 23, during the regional competition at Lincoln Hall in Lincoln Park. Winning mixologists Lynn House from Graham Elliot and Jennifer Contraveos of Mercadito Chicago & Double A are off to New York this Sunday, February 28th to compete for one of three spots in the national title, from where they will leave for New Zealand to compete with bartenders from all over the world for the Cocktail World Cup champion title. Celebrate New Zealand style with last night's winning drink combinations for your very taste of the 42Below fun!
-Jackie Medler
Pricilla Queen of the Dessert
Created by Lynn House of Graham Elliot
2 oz 42BELOW Kiwi Vodka
1 oz Allan Scott blanc de blanc brut
1/2 oz lime juice
1 1/2 oz apple puree
2 tsp jimaica molasses
Served in a cocktail glass, garnish flower shaped apple slices. Spoon one tsp of jimaica molasses into base of cocktail glass. In a mixing glass combine 42BELOW Kiwi Vodka, lime juice, 1 tsp of jimaica molasses and apple puree. Shake until well chilled and strain into cocktail glass. Float Allan Scott Blanc de Blanc brut on top. Garnish with apple flower.
AD ASTRA
(Created by Jennifer Contraveos of Mercadito Chicago & Double A)
 I.25oz 42BELOW Passion Fruit Vodka
.25oz Aperol Aperitivo
1oz Housemade Mandarin Madagascar Vanilla Syrup**
.75 oz Hand Extracted Lemon Juice
Soda
 **Housemade Mandarin Madagascar Vanilla Syrup: In a pot, add 1.5 cup Juice from Fresh Squeezed Mandarin Oranges, 1.25 cup Demerara Sugar and 2 Halved Madagascar Vanilla Beans. Bring to a boil and then reduced to a simmer for 10 minutes. Strain and cool.
In a glass mixing pint, combine 42BELOW Passion Fruit Vodka, Aperol, HMMV Syrup and Lemon juice. Line the inside of a highball glass with thin wheel slices of mandarin and lemon. Pack glass with ice. Shake cocktail ingredients in a Boston shaker filled with ice. Strain into ice filled highball glass. Using a soda siphon, top with soda and repack with ice if necessary. Garnish: Mandarin and Lemon lined highball glass and a Vanilla bean.
---
blog comments powered by
---